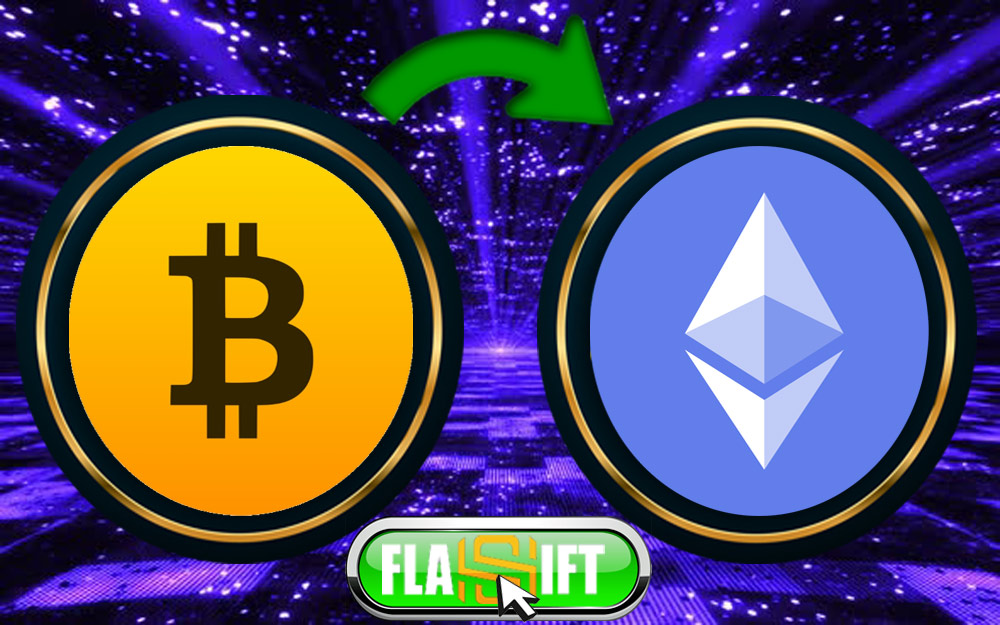 Convert Bitcoin to Ethereum
How to convert Bitcoin to Ethereum on Flashift?
Convert Bitcoin to Ethereum: There are various methods to use to convert Bitcoin to Ethereum.
Ways that each have their advantages and disadvantages.
Online exchanges are one of the best ways to convert Bitcoin to Ethereum.
In these exchanges, you can convert your digital currencies in two ways.
The first way is to sell Bitcoin to an exchange and buy the required Ethereum through the same exchange.
This method is not very cost-effective.
The second way is to convert Bitcoin to Ethereum directly through an exchange.
In this article, we will explain you that how to convert Bitcoin to Ethereum on Flashift online exchange, so stay tuned.
Convert Bitcoin to Ethereum on Flashift
First, select Bitcoin from the pull-down menu above and enter the amount of Bitcoin we want to convert.
Then select to Ethereum from pull-down menu below that then click on view all offers like the image below.

In this step select the exchange service which meets your requirements and click on next.

How to convert Ethereum to Bitcoin
In this step you should enter your destination address(recipient) and MEMO (extra ID) then click on next.

How to convert BTC to USDT on Binance?
In this step review everything before conforming and click on next.
And final step you will get your coins in a few minutes.

If you want to exchange cryptocurrencies on Flashift exchange, click here.
What is Flashift exchange?
Flashift is an application for conversion cryptocurrencies that is fast and best, and you don't need a centralized exchange such as Binance.
Flashift search and display the best rates among all exchange offices, and you can instantly and easily convert cryptocurrencies with your wallet.
Why use Flashift Exchange?
Convert cryptocurrencies with wallet will cause you a lot of losses due to high fees, and also keeping currencies in centralized exchange offices, in addition to the difficulty of working with them, has many risks.
For this reason, Flashift Exchange is the best option for people who change their currencies on their wallet and want to avoid the risk of keeping large amounts of money in centralized exchanges.
Why should you trust FLASHIFT?
FLASHIFT is a multiplatform aggregator application for instant exchange deals.
We are searching for available offers, sort them out and showcase the best rates in one interface.
What is Bitcoin?
Bitcoin can be a form of money that you buy or order online, as an investment that preserves the value of your savings in the long run or a platform for future decentralized programs that are non-financial aspects of your life and entered.
Along with the tempting rise in the price of digital currencies, you may have heard about the king of digital currencies in the news and cyberspace.
While searching various sites, you may have come across topics such as Bitcoin or how you can get free Bitcoin.
Bitcoin is an electronic currency with which you can send money anywhere in the world or use it to buy commodities and services.
What is Ethereum?
Ethereum is a free platform based on Blockchain technology that enables developers to implement their decentralized applications.
What are the similarities between Ethereum and Bitcoin?
The Bitcoin blockchain is used to track the ownership of digital money – Bitcoin.
But the Ethereum blockchain is designed to execute decentralized programming code.
Like Bitcoin, Ethereum is a publicly distributed blockchain.
Although there are many technical differences between the two, their goals and capabilities are the most crucial difference.
Bitcoin is a particular application of Blockchain technology.
Bitcoin created a global, peer-to-peer, and decentralized payment system.
To better understand this, consider the Bitcoin blockchain operating system on which only one software called Bitcoin runs.
Instead, consider the Ethereum China blockchain as the operating system on which thousands of different software and services can run.
It will be easier for you to understand the concept of "token".
A token is a decentralized program currency that does not have its private blockchain and uses other blockchains such as Ethereum.
Instead of working to extract Bitcoins in the Ethereum blockchain, miners work for an encrypted digital currency called ether, which supplies the network. Ether is a commercial and portable digital currency used by software developers to pay for transaction costs.
You can also read similar article:
Convert Litecoin to dollar on coinbase