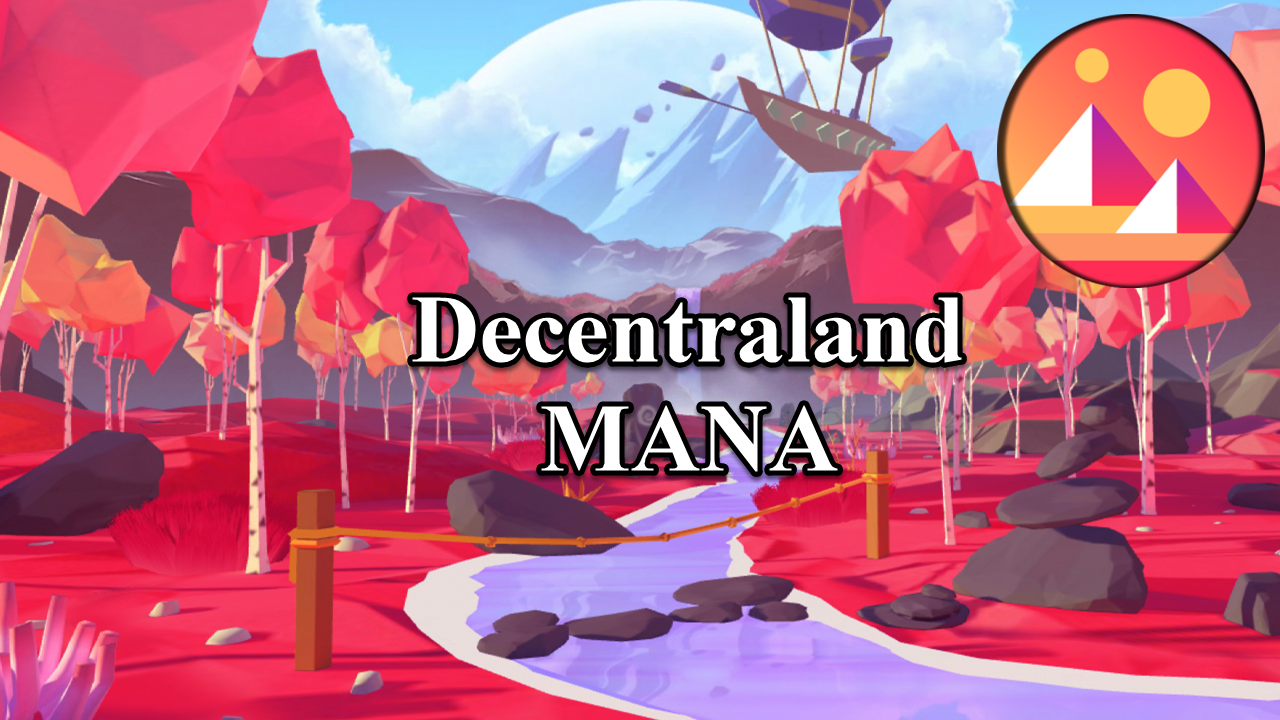 Introduction of Decentralan(MANA)
Definition of Dicentraland
Introduction of Decentralan(MANA): The real estate market has been rallying over the last few years and not just in the real world.
There are thousands of plots of virtual land worth millions of dollars for sale and people are buying them up every day.
The virtual estate boom is primarily due to the invention of non-fungible tokens which guarantee immutable ownership of virtual property.
As the world becomes increasingly digital there are some who believe this virtual real estate market could someday become even larger than the real thing.
Decentraland is the current leader in this niche and over the last few months it has become one of the busiest marketplaces for virtual land and other NFTs.
NFTs are part of the Ethereum blockchain so they are individual tokens with extra information stored in them.
That extra information is the important part, which allows them to take the form of art, music, video (and so on), in the form of JPGS, MP3s, videos, GIFs and more.
You can also read >>>>>> Introduction of Fantom Digital Currency
What is Decentraland?
Decentraland is a community-owned virtual world that leverages the Ethereum blockchain.
It consists of 90000 parcels of land which measure 16 by 16 meters or 52 by 52 feet for you yanks out there.
Each parcel of land exists as a non-fungible land token on the Ethereum blockchain.
Non-fungible means that each land token is unique.
This is because each one is characterized by its location on Decentraland's map.
Each parcel of land can also be customized using the Decentraland builder which is similar to the building tools you find in games like Sims and doesn't require any technical knowledge to use.
Some land is used for roads that cannot be bought or sold.
These are the light grey lines you see across the map.
You can also read >>>>>> Introduction of Holo digital currency
Some land belongs to plazas which are owned by the Decentraland community.
These are the nine green areas you see on the map.
You can also read >>>>>>  Introduction of Terra (Luna) Digital Currency
Each plaza has its own theme and the plaza at the center is known as the genesis plaza.
Which is where all players spawn.
Buying and selling land
The land you see in dark blue beyounds to districts which are like plazas except they are privately owned by an individual or organization.
You can also read >>>>>> Introduction of Initiative Q Digital Currency
All the grey land you see is owned but not for sale, whereas the land in light blue is for sale on the Decentraland marketplace as a single parcel or an estate consisting of multiple parcels.
Logically the closer a parcel or estate is to the genesis plaza a road or popular district the more expensive it will be.
In addition to land users can buy and sales wearable items, and names for their in-game avatars on the decentraland marketplace.
These also exist as NFTs on the Ethereum blockchain.
All items on the decentraland marketplace are purchased using the MANA token.
Which is also the de facto in-game currency of Decentraland.
You can also read >>>>>> Introduction to Lightcoin digital currency
What is MANA?
MANA – A cryptocurrency that facilitates purchases of LAND, as well as virtual goods and services used in Decentraland.
It is built on Ethereum in accordance with the ERC20 standard for tokens.
It can be bought and sold for fiat currency or other digital currencies.
And also can be stored in a crypto wallet.
MANA Potential
MANA still has a relatively low market cap, a maximum supply, and no sizeable whales that could dump on retail investors. Another 5x move from MANA's current valuation is very possible.
History of the Decentraland
Since it's launched last february, Decenteraland has become one of the most popular virtual worlds in cryptocurrency.
When you consider everything that's happened since then it's easy to understand why.
After in-person meet-ups were made impossible by pandemic Decentraland hosted the famous block down crypto conference in April last year.
This online event featured crypto kings like Eric Voorhees, Roger Keith Ver, Ripple and Stella co-founder, Jed McCaleb(Finance CEO Chang) Peng Zhao and even Akon, a musician building a crypto super city in Senegal.
Shortly afterwards Decentraland and binance teamed up to raise funds to fight the pandemic by selling virtual face
masks as wearables on Decentraland.
In May Decentraland launched its content creator program and added new features too such as friend requests and,
lists and encrypted in-game friends chat and the ability to teleport directly to friends.
In June Decentraland partnered with Matic AKA polygon to build in-game mini-games.
Decentraland briefly took cryptocenter stage in July when it announced a partnership with Samsung which would be
supporting Decentraland NFTs along with its marketplace in the Samsung blockchain wallet.
In September Decentraland introduced quote smart items which make it possible to use external Images video and,
Audio in its virtual world.
This was a game changer for Decentraland because it opened the door to an endless amount of unique use cases.
One of these is virtual concerts the first of which took plac in December.
The most significant side effect of this September update has to do with NTFs.
In 2021
In June 2021 London-based auction house Sotheby's created a digital replica of its New Bond Street headquarters as a virtual gallery in Decentraland to show digital art.
On June 18, 2021, New York-based digital real estate investment vehicle Republic Realm paid the equivalent of $913,228 for 259 parcels of Decentraland that it plans to turn into a virtual shopping district named Metajuku, styled after the Tokyo shopping district Harajuku.
Disclaimer
The information contained herein is for informational purposes only.
The content of this article is not a licensed financial advisor or registered investment advisor.
Trading cryptocurrencies poses considerable risk of loss.