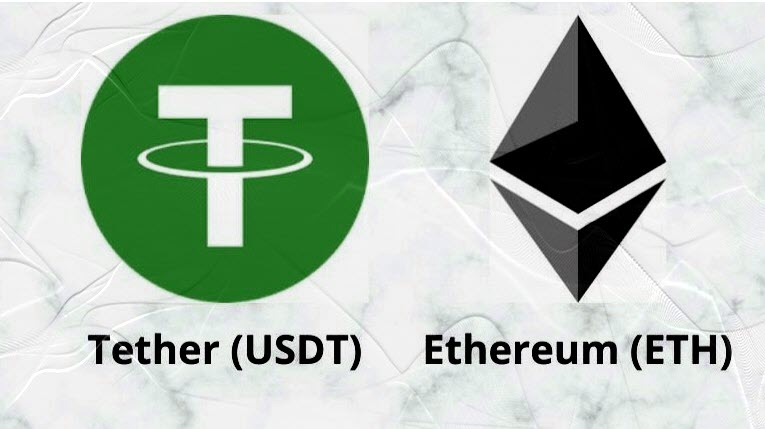 Tether to Ethereum exchange
How can I exchange USDT to ETH?
 In this article, we want to explain to you how we can do Tether to Ethereum exchange.
After Bitcoin, Tether is one of the most popular digital currencies and one of the stablecoins.
Tether digital currency is so important today that many people are tying the future of cryptocurrencies to it.
Before any explanation, let us introduce you to Tether and Ethereum currency.
Tether is a type of stablecoin nailed to Fiat currencies and traded with the USDT symbol.
Fiat refers to cash such as the dollar and the Toman, issued and supported by governments.
The USDT is dollar-denominated and published by Tether.
For more information about Tether, you can read our similar article Buy Tether without authentication.
What is the Ethereum?
The Ethereum is known by the symbol ETH. Ethereum is a free platform based on blockchain technology that enables developers to implement their decentralized applications.
Platform
A platform is a set of hardware, software, and operating system (the operating system itself is a part of the software).
Blockchain
Blockchain is a type of information and reporting system.
The difference with other systems is that the information stored on this type of system is shared among all network members.
With data encryption and distribution, the possibility of deleting, hacking and manipulating recorded information is almost eliminated.
For more information about Ethereum, you can see our similar article on The Introduction of Ethereum cryptocurrency.
How to convert Tether to Ethereum?
First of all, you should refer to a well-known site or a reputable exchange office for this operation.
In the first place, this is the most important thing to do. So that you can be entirely sure of the desired exchange office so that you do not face scams for a while.
We offer you Bainance online exchange website.
Then it would help if you made sure the deal is complete.
To determine whether it is possible to make a transaction or not.
In the next step, you must first enter the site and register by registering to verify your identity.
Then consider the request to sell Tether and confirm your transaction by sending Tether to the buyer's wallet.
Finally, you must receive the equivalent of Tether-Ethereum in your account.
In this way you can easily convert the Tether to Ethereum.
Ethereum to Tether exchange rate
When writing this article, 1 USDT would be equivalent to 0.00029990 ETH, which is precisely the amount one would get once they convert 1 USDT to ETH.
As per the updated price format, the maximum USDT to ETH exchange rate in the last 24 hours is 0.00030195, and the lowest exchange rate is 0.00031790.
Ethereum Network is based on blockchain technology, which is open and decentralized and can execute smart contracts.
A smart contract is a way to use cryptocurrency to reach an agreement between parties in blockchain networks.
In the Ethereum network, when the parties agree on the blockchain network, the network executes the agreement regardless of how the parties feel after entering it.
 Smart contracts in the Ethereum network use an autonomous distributed organization (DAO) that operates in a decentralized application process.